St Patrick's Pilgrimage Banner
Hand-embroidered pilgrimage banner with portrait of St. Patrick in the centre surrounded by hand-embroidered shapes. Bottom edge finished with decorative gold-thread tassels. Measuring 920 mm high, 620 mm wide.
Presented to Knock Shrine by the first organised pilgrimage to Knock in 1880 by the members of the Confraternity of the Holy Family connected with the Redemptorists' Church, Limerick City.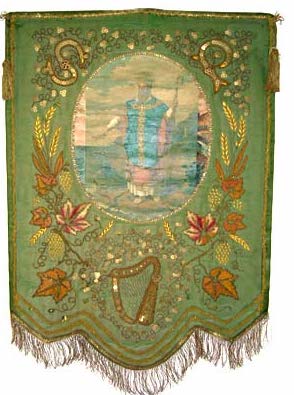 Find out more about Knock Museum
Knock Museum
Knock
County Mayo
Claremorris
+353 (0) 94 938 8100
museum@knock-shrine.ie
www.knockshrine.ie
Sneak Peek
Some interesting items can be viewed here
You may also be interested in...