Knock Shrine Society Steward's Sash
Off-white cloth sash worn over shoulder at Knock religious services by Knock Shrine Society Stewards. Circular image of Knock Parish Church on front. Bottom edges finished with gold-coloured decorative tassels. Measuring 2,000 mm long, 80 mm wide.
Part of ceremonial uniform of Knock Shrine Society Stewards.
Donated to Knock Museum in 1995 by member of Knock Shrine Society. This society was set up in 1935 to promote the cause of Knock Shrine. The society consists of lay people from all walks of life, male stewards and female handmaids. There are approximately 800 current active members.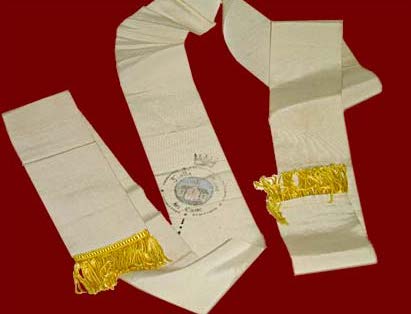 Find out more about Knock Museum
Knock Museum
Knock
County Mayo
Claremorris
+353 (0) 94 938 8100
museum@knock-shrine.ie
www.knockshrine.ie
Sneak Peek
Some interesting items can be viewed here
You may also be interested in...