'Daughters of Charity of St Vincent de Paul' habit
Blue-grey wool pleated skirt, long-sleeved bodice of same material with round-neck and hook-and-eye fasteners at front, pinner apron with gauged waistband and black ties, black berry bead chaplet on green wool tape, starched white collar and cornette.
Habit worn by members of the 'Daughters of Charity of St Vincent de Paul' order of nuns from 1633 - 1964.
This order of nuns first came to Knock in 1931 and occupy the house originally built, to cater for pilgrims, by Archdeacon Cavanagh, PP of Knock 1867 - 1897. Today this building is known as St Mary's Convent/Hostel and is still run by this order of nuns as a hostel for pilgrims and visitors to Knock Shrine.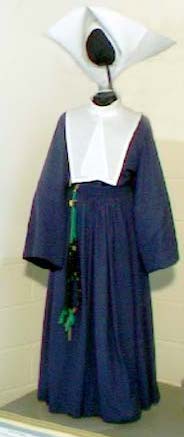 Find out more about Knock Museum
Knock Museum
Knock
County Mayo
Claremorris
+353 (0) 94 938 8100
museum@knock-shrine.ie
www.knockshrine.ie
Sneak Peek
Some interesting items can be viewed here
You may also be interested in...