Souvenir of Knock Apparition Scene
Oval-shaped alabaster depiction of Knock Apparition scene in a brass surround with hanging ring at top. Measuring 90mm X 55 mm. Possibly pre-dates World War 1.
Donated to Knock Museum 2005 by Knock Pilgrims visiting from south-east England.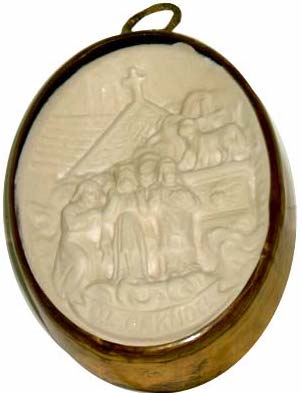 Find out more about Knock Museum
Knock Museum
Knock
County Mayo
Claremorris
+353 (0) 94 938 8100
museum@knock-shrine.ie
www.knockshrine.ie
Sneak Peek
Some interesting items can be viewed here
You may also be interested in...