Baby's bed designed to be rocked.
Box-shaped wooden bed with semi-circular shaped blocks of wood underneath at each end to enable it to be rocked from side to side. Measuring 37" in length, 18.25" in width at top and height 17.5"
Made in Ballyhaunis, Co. Mayo, circa 1930. Displayed in the kitchen of the reconstructed thatched cottage.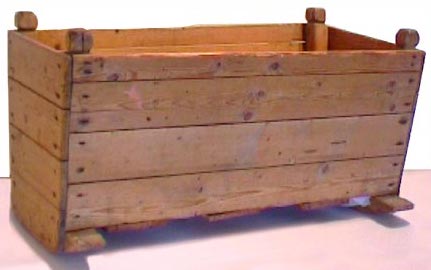 Find out more about Knock Museum
Knock Museum
Knock
County Mayo
Claremorris
+353 (0) 94 938 8100
museum@knock-shrine.ie
www.knockshrine.ie
Sneak Peek
Some interesting items can be viewed here
You may also be interested in...