Alcove opening off kitchen area in most thatched cottages. The alcove was often the sleeping quarters of the old woman of the house hence the name cailleach (old lady).
From her bed she was able to maintain a certain amount of discipline and exercise some discipline over children in a mother's absence.
She was also kept within the family circle and was party to most family activities.
In the Eviction Cottage near Elmhall graveyard.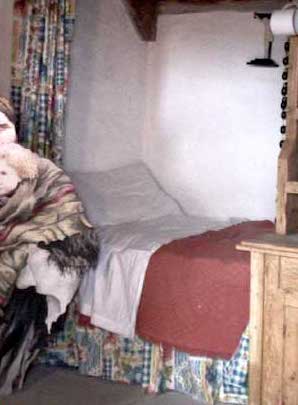 Find out more about Belcarra Eviction Cottage
Belcarra Eviction Cottage
Elmhall
Belcarra
County Mayo
+ 353 (0) 87 9090046
juniorprendergast@gmail.com
Sneak Peek
Some interesting items can be viewed here
You may also be interested in...