Open Hearth - Fire Place Tine / Croi Lar an Teach
Traditional open limestone arched fireplace with crane to support hanging skillets / pots for cooking over open fire.
The traditional open hearth had a dual function of heating the house and cooking for the family & animals.
Turf saved and timber / branches gathered by the family was the main source of fuel.
The cooking was done in skillets / pots hanging over the flames from the iron crane. This crane rotated to enable the lady of the house / bean an ti to remove the boiling skillets / pots of potatoes etc from the heat.
These skillets were hung on iron hooks. The fireplace was also used to bake bread and other foods by surrounding pans / pots with the fuel of the day.
Reconstructed from stones excavated from the ruins of the original eviction cottage.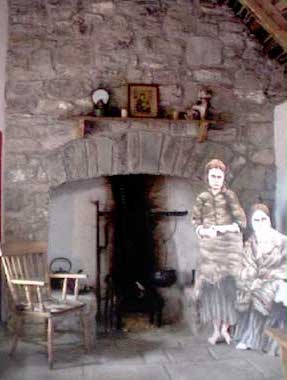 Find out more about Belcarra Eviction Cottage
Belcarra Eviction Cottage
Elmhall
Belcarra
County Mayo
+ 353 (0) 87 9090046
juniorprendergast@gmail.com
Sneak Peek
Some interesting items can be viewed here
You may also be interested in...