Extracts from 'The Connaught Telegraph' 1886
Connaught Telegraph
The following are extracts from the Connaught Telegraph describing the actual eviction:
This morning, a force of about 50 policemen, under command of Major Neild, Messrs Huddy and Chambers DI proceeded to the townland of Tully, where they dispossessed John Garvey, who had been some time ago evicted, but re-admitted as caretaker. They then proceeded to the residence of James Walshe of Elmhall, where the same procedure was gone through, as in the case of Garvey. It was remarkable that today the dirty work was left entirely in the hands of dirty Billy: and the reception he got at both Walshe's and Garvey's was remarkably warm, at his entrance to each house he was scalded in the face and neck with boiling gruel! A full report will appear in our next edition.
Conn Telegraph Oct 2nd 1886
On Saturday last, the savage crew, composed of Gardiner, Pringle, Cuffe and 50 or 60 policemen with three or four officers and a paid magistrate attended at Tully and Elmhall and succeeded in evicting two wretched families. There is nothing remarkable to be noted in the proceeding of the day further than we mentioned last week - that John Garvey and James Walshe were turned adrift and that the heartless wretch Gardiner assisted her bastard relation in removing the furniture from the cabin In fact it was laughable to see the unfortunate old hag (Gardiner) tussling with tables and boxes as the respectable Billy was alone in his dirty work and so the grotesque Harriet should come to the rescue of her dear relative. They were truly a pretty pair of animals engaged at nice kind of work. Mr Wynne our very energetic artist was present on the occasion and we think the Gardiner-Pringle "Graces" will not feel too graced by his artisitic performance.
Conn Telegraph Oct 9th 1886
Miss Gardiner and Miss Pringle
Miss Harriet Gardiner(1821 - 24 July 1892) was a native of Farmhill, Killala and her companion, Miss Pringle was of Scottish origin. The pair were notorious in their time because of their heavy drinking .
George A Moore wrote of Harriet's
"dirty, greasy old breeches, her pipe smoking and drunken habits"
Colonel Billy Cuffe
Lord Tirawley lived at Deel Castle, Crossmolina and was an MP for the county. He had a very bad record,and died without lawful male issue. Sll Lord Tirawley's family, with his first wife died. He married secondly, but had no heir to the title, which died with him.
Of a host of illegitimate children he found one favourite, whom he educated, and for whom he purchased a commission in the army - colonel - who was left all the estate unentailed.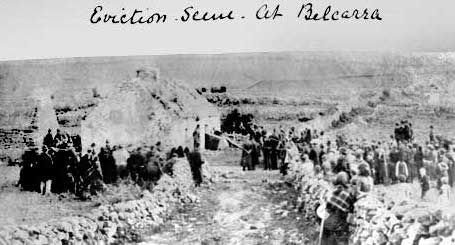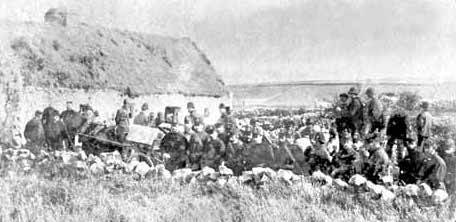 Find out more about Belcarra Eviction Cottage
Belcarra Eviction Cottage
Elmhall
Belcarra
County Mayo
+ 353 (0) 87 9090046
juniorprendergast@gmail.com
Sneak Peek
Some interesting items can be viewed here
You may also be interested in...