Skillet with lid - Scilléad
Skillet, shallow pan with a triangular spout and two handles. Colour black/brown. Fairly light.
Lid round shape one-third of lid missing, has inscription 1.5 gal. Lid has handle and also two circles.
Diameter handle to handle approx 10.5 inches, depth approx 1.75 inches.
Used as a cooking utensil.
Donated by Máire Breathnach who got it from Inis Gé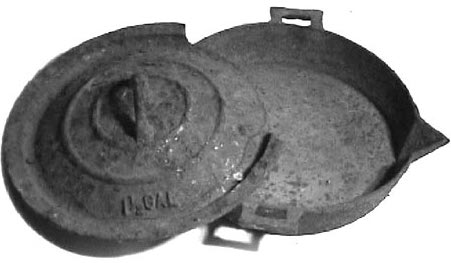 Find out more about Ionad Deirbhle Eachléim Heritage Centre
Ionad Deirbhle Eachléim Heritage Centre
Eachléim (Aughleam)
Belmullet
County Mayo
+353 (0) 97 85727
eolas@ionaddeirbhile.ie
www.ionaddeirbhile.ie
Sneak Peek
Some interesting items can be viewed here
You may also be interested in...