Ionad Deirbhle Eachléim Heritage Centre
Introduction
Ionad Deirbhle was officially opened on August 13th 1997 by Her Excellency Mary Robinson, President of Ireland. Situated 11 miles from Belmullet in the heart of the Eachlím Gaeltacht in the southern tip of the Mullet peninsula with Blacksod Bay to the south and east and the Atlantic along the western shoreline, set among one of the most stunningly beautiful and unspoilt landscapes in Ireland. The centre gives the visitor a valuable insight into the lifesyle of this area in times past.
Céad Míle Fáilte
Ba mhaith linn "Fáilte Uí Cheallaigh" a chur romhat chuig Ionad Oidhreachta Deirbhile Eachléim. D'oscail a Soilse, Máire Mhic Roibín, Ionad Oidhreachta Deirbhile ar an 13/08/1997. Tugann an t-Ionad léargas iomlán don chuairteoir are shaol agus ar shaíocht an cheantair mar a bhiodh sé fadó.
Tá béaloideas ó 1935 i leith le fáil ann, samplaí bailliucháin scoile 1939, seandalaíocht paróiste na Cille Móire, scéal Naomh Deirbhile, na h-oileáin Inis Gé, Dubh Oileáin, Inis Glóra, Stáisiún na Míol Mór, Armada na Spáine, Tithe Solais (4), Coláistí Gaeilge, Túr Glais, Tinteáin 1840/60, Mainistir na Croise le leabharlann sean stair &rl.
Facilities
Exhibition area
Craft shop
Coffee Shop
Toilets
Building is wheelchair friendly
Information
The centre houses a wealth of information relating to local folklore, archaeology, local history and an account of a former way of life for instance currach fishing, construction of old houses native to this area etc. This information is presented in both Irish and English.
Features
A unique feature of the building, which immediately catches the eye is a 10ft high stain-glassed window which illustrates the story of St Deirbhile, after whom the centre is named. This is a replica of the window found in the Pre-Norman church at Fál Mór. Central to the building is a stone fireplace and chimney breast which dates back to 1840/1860. The external walls are composed of local granite from Fál Mór, and the overall plan of the building emulates that of the traditional type of house found on the Inis Geidh Islands.
Artefacts
Numerous artefacts are on display at Ionad Deirbhile including:
Creel - a big square basket, traditionally made from sally rods grown locally. Creels were attached in pairs across a donkey's back and used to carry heavy loads of turf, seaweed and potatoes
Last - used by a cobbler to make and mend shoes. Also on display a pair of handmade shoes by a local cobbler in the early 1900's
Old Cooking Utensils - pot oven, pot, griddle, skillet, frying pan, stand, tongs, smoothing iron
Quilt - made from cotton and used as bedcovers. Women in every house engaged in the traditional making of patchwork quilts and every house had a quilting frame
Straw Hats - made from straw and worn by strawboys who attended local Erris weddings in the house of the bride to dance with the bride and guests. Straw hats were adorned with stripes of red and green cloth and worn over the head.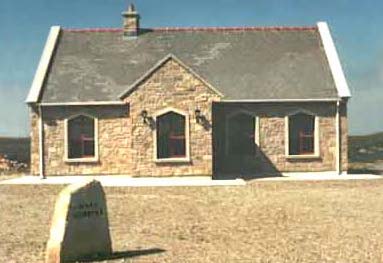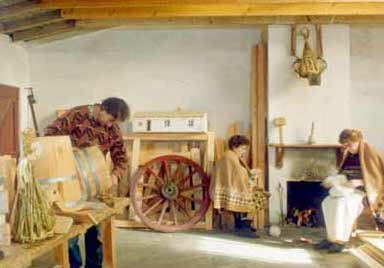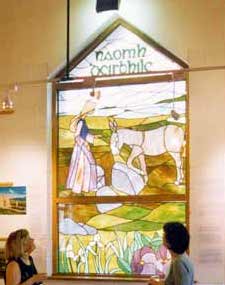 Find out more about Ionad Deirbhle Eachléim Heritage Centre
Ionad Deirbhle Eachléim Heritage Centre
Eachléim (Aughleam)
Belmullet
County Mayo
+353 (0) 97 85727
eolas@ionaddeirbhile.ie
www.ionaddeirbhile.ie
Sneak Peek
Some interesting items can be viewed here
You may also be interested in...