Saint Deirbhle's Church Teampall Deirbhile
A National monument dates back to two periods approx 11th and 12th Century - the west is of Polygonal masonry or granite blocks strongly grouted and East gable is built with regular layers, the pitch of the gable is low.
The foundation of the older cast gable and part of its window head were recently unearthed.
The remains of the Church measure 47 feet and 9 inches on the south, 47 feet on the north, the East gable is 21 feet 10 inches and the West is 22 feet in length external measurements. The former is 3 feet in thickness and the latter is 2 feet 9 inches.
The ruin occupies a Knoll rising above a sandy beach surrounded by old stone and over-crowded graveyard.
Legend has it that if you go through the window three (3) times, you will not drown.
The church derives its name fromt the saintly virgin Deirbhle (Dervilla) "Deirbhle de Irras" who lived here in the sixth century and was one of the Holy Women who attended the great meetings at Ballisidare, Co Sligo (585 AD) held by Saint Farannan to meet Saint Columcille before his return to Britain following the synod of Bishops in Dromceat.
Used as a place of worship from the 12th century.
Recorded in "mensal" properities though Killala was not mensil it comes in the secod list. 11th and 12th century.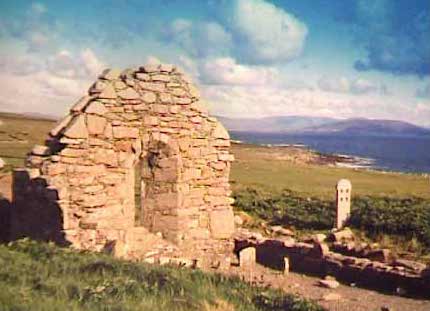 Find out more about Ionad Deirbhle Eachléim Heritage Centre
Ionad Deirbhle Eachléim Heritage Centre
Eachléim (Aughleam)
Belmullet
County Mayo
+353 (0) 97 85727
eolas@ionaddeirbhile.ie
www.ionaddeirbhile.ie
Sneak Peek
Some interesting items can be viewed here
You may also be interested in...