Cross Abbey - Mainistir na Croise
Ruins of an Early Christian medieval Church of Cross situated in a graveyard. It is thought that the monastic settlement on Inishglora was moved to Cross in the 10th century retaining the alais Inishglora or Saint Brendan's throughout the medieval period. From the 14th century onwards it became a priory dedicated to the Blessed Virgin Mary and a dependant on the Abbey of Ballintubber, from which it received its revenue.
Used as a place of worship in the early christian period affiliated to Ballintober Abbey.
An Abbot from Ballintubber founded the priory of Cross and had to pay 20 oras of silver rent to Ballintubber.
The Diocese of Killala from its institution to the end of the penal times by Most Rev Thomas McDonnell (Bishop McDonnell). Its lands were confiscated in the composition of Connaught in 1585. Only gravestones and a part of a chapel remain to tell the tale of Cross Abbey.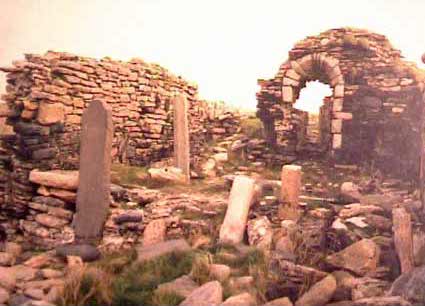 Find out more about Ionad Deirbhle Eachléim Heritage Centre
Ionad Deirbhle Eachléim Heritage Centre
Eachléim (Aughleam)
Belmullet
County Mayo
+353 (0) 97 85727
eolas@ionaddeirbhile.ie
www.ionaddeirbhile.ie
Sneak Peek
Some interesting items can be viewed here
You may also be interested in...