Fishing
Fishing was the main livelihood of the people of the islands of Inishkea, Dunvillaun and Inis Glora off the coast and most of the Mullet Peninsula, Blacksod Bay in Mayo. The fishing season began 1st April with Lobster fishing to October and Mackerel/Herring from October to Christmas.
The fish caught were mostly consumed at home or sold to neighbours for consumption in the district. Small quantities of superior fish such as turbot, cod and ling were sometimes sent for sale in Dublin. The facilities for the sale of fish were so defective that any export trade was almost impossible.
Fish-Curing
Fish-curing in this district was confined to salting cod, ling and herrings in wooden barrels, which were sold in the Belmullet market for local consumption during the winter months. Fishing stations were set up to cure fish at the end of the 19th century.
Lobster were sold at Belmullet priced five to six shillings per dozen. They were sent by mail car to Ballina, thence by rail to England. Lobster was also transported for sale by sea to Westport and Achill.
Boats
The Currach, mostly two-man (a canvas canoe tarred to secure it from taking water) was rowed by fishermen of Inishkea, Faulmore and Blacksod. In the grounds of Ionad Deirbhile can be seen an old Inishkea currach used for fishing down through the century.
From a very young age boys were taken out in these canvas canoes and they learned through experience and instruction how to handle the boats with great expertise. By the age of 12 or 13, boys went to fish in the Atlantic as their grandfathers had and travelled 3 or 4 miles out to sea to fish. The older people mended the nets.
Also engaged in fishing were a few small boats known as the Inis Gé yawls, the Hookers, Glothogues and the Nobbies.

Records show that in the district in 1892, there were 3 second-class boats, 29 third-class and 142 currachs.

The fishermen cast their nets and spillets overnight and if they struck a shoal as many as 400 mackerel may have been caught at one time.

Lobster pots were made at home from heather grown on the hills and anchored by a bouy marker out at sea and taken every day. One of these Lobster pots is on view in the Ionad Deirbhile Centre.

There was immense hardship in fishing the Atlantic which has the strongest current in western Europe in harsh weather conditions.

Fishing still continues today with more modern fishing vessels but to this day the currach is still in use on a smaller scale.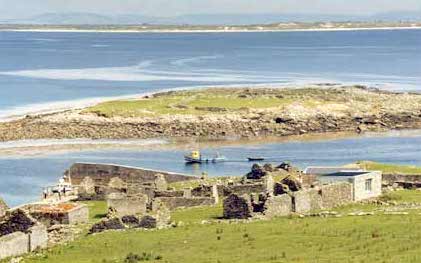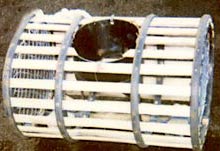 Find out more about Ionad Deirbhle Eachléim Heritage Centre
Ionad Deirbhle Eachléim Heritage Centre
Eachléim (Aughleam)
Belmullet
County Mayo
+353 (0) 97 85727
eolas@ionaddeirbhile.ie
www.ionaddeirbhile.ie
Sneak Peek
Some interesting items can be viewed here
You may also be interested in...