The centre is named in honour of St Deirbhile, who came to this area in the sixth century, from her native County Meath. She was of noble lineage and her father was Cormac MacDaithi. St Deirbhile, accompanied by St Geidh from Inis Geidhe and St Muirdeach from Ballina, travelled to the Synod of Bishope in Ballysadare, to meet with St Colmcille in 585 AD (Annals of Connacht).
St Deirbhile's Pre-Norman Church
Situated at Fál Mór is an old church and graveyard which are dedicated to the saint, whose remains are interred here according to tradition. Deirbhile's Church is one of the most ancient in Ireland, built in excellent granite stone and is now a national monument and probably dates to the Early Christian Period. The ruins as they appear today were probably built in the twelfth century replacing or incorporating an earlier structure. Folklore has it that if you can pass through the small east window three times, heaven is your reward.
St Deirbhile's Blessed Well
St Deirbhile's Well lies a short distance to the north of the church. The water from this blessed well is alleged to have curative properties for eye complaints. A pilgrimage takes place annually to the well on August 15th in honour of St Deirbhile.
Cross Abbey
At Ionad Deirbhile you can read the history of Cross Abbey and its ancient burial ground which contains the graves of Dean Lyons and the poet Riocaird Bairead.
Close to Inishglóra is thought to have an early Christian monastic settlement which became a 'Priory' dedicated to the Blessed Virgin from the 14th century and a dependant on Ballintubber Abbey for its revenue.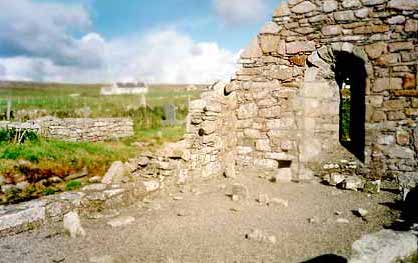 Find out more about Ionad Deirbhle Eachléim Heritage Centre
Ionad Deirbhle Eachléim Heritage Centre
Eachléim (Aughleam)
Belmullet
County Mayo
+353 (0) 97 85727
eolas@ionaddeirbhile.ie
www.ionaddeirbhile.ie
Sneak Peek
Some interesting items can be viewed here
You may also be interested in...