Made from cast iron, brown/black in colour with 2 handles and 3 legs. 12 inches in diameter, height from ground to top is approx 6.25 inches.
Lid is round and 12.5 inches in diameter.
Pot hooks was used to hang pot on open peat fire, it is in two parts intertwined at the top with hook features at the bottom, approx 12 inches in height.
It was mainly used to bake bread and roast meat by the open peat/turf fire until installation of electricity.
Donated by Kathleen Padden, it belonged to her grandmother.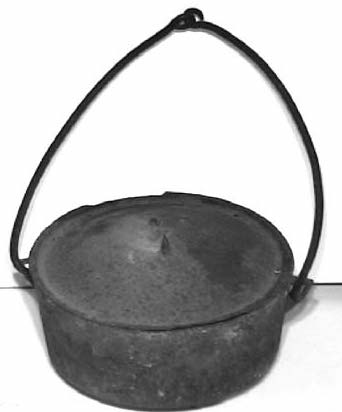 Find out more about Ionad Deirbhle Eachléim Heritage Centre
Ionad Deirbhle Eachléim Heritage Centre
Eachléim (Aughleam)
Belmullet
County Mayo
+353 (0) 97 85727
eolas@ionaddeirbhile.ie
www.ionaddeirbhile.ie
Sneak Peek
Some interesting items can be viewed here
You may also be interested in...