Poitín still on Duvillaun Island Stil poitín ar Dubh Oileán
Poitín, an alcoholic beverage made from barley, was widely made in all communities at this time.
Alcohol beverage to drink used instead of spirits such as whiskey or brandy.
Made locally in all communities around this time.
Courtesy of the National Library of Ireland
Charles Brown Collection R27 596.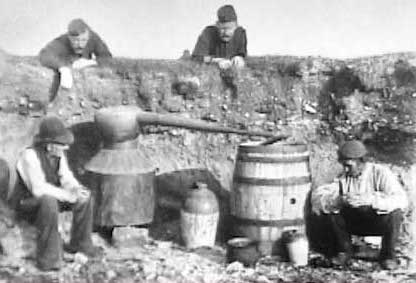 Find out more about Ionad Deirbhle Eachléim Heritage Centre
Ionad Deirbhle Eachléim Heritage Centre
Eachléim (Aughleam)
Belmullet
County Mayo
+353 (0) 97 85727
eolas@ionaddeirbhile.ie
www.ionaddeirbhile.ie
Sneak Peek
Some interesting items can be viewed here
You may also be interested in...