Autograph Book 1923 - Leabhar átagrafach
This autograph book belonged to Sean Malone, High Street, Westport, a Prisoner of War in Tintown No 2, The Curragh Camp. Inscription read as follows:
Baile An Staig,
Pobal 9
No wave on the great ocean of time
When once it had passed us can be re
Called. All we can do is wait for
The new form and motion of the next
And launch upon it to try, in the
Manner our best judgement will suggest
Our strength and our skill.
Séagán Brúg
Balla
Co Muigeo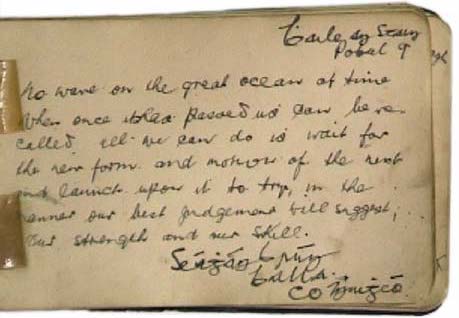 Find out more about Clew Bay Heritage Centre
Clew Bay Heritage Centre
The Quay
Westport
County Mayo
+353 (0)98 26852
westportheritage@eircom.net
www.westportheritage.com
Sneak Peek
Some interesting items can be viewed here
You may also be interested in...