The Quiet Man lives on
In 1951 John Ford's greatest movie "The Quiet Man" starring John Wayne, Maureen O'Hara and Barry Fitzgerald was made. It was set in the beautiful west of Ireland with filming being centred in the village of Cong on the Mayo-Galway border.
Quiet Man Cottage Museum
Quiet Man Cottage Museum is a novel concept which will give the visitor a total Quiet Man experience as if they were actually 'on-set'.
Located by the river at Circular Road, Cong, between actual locations used for the filming, the ground floor of the cottage has been designed as an exact replica of 'White-o-Mornin' Cottage.
Painstaking effort has ensured that all the furnishings, artifacts, costumes etc are authentic reproductions.
The four poster bed and the tables and chairs which 'Mary Kate' cherished, the thatched roof, emerald green half door and white washed front combine to charm all those who visit it.
"Quiet Man Cottage Museum " is a must for any Quiet Man enthusiasts, or even those wishing to visit a typical Irish cottage of the 1920's.
Experience for yourself this unique journey into the past
Audio Visual Presentation

Souvenirs

Parking

Guide to Locations/Historical Sites
The Wayne Family visited "Quiet Man Cottage Museum " Cong, so can you!
Getting Here
Route A
Cork - Limerick: N20
Limerick - Galway: N18
Galway - Cong: N59
Route B
Shannon - Galway: N18
Galway - Cong: N59
Route C
Belfast - Sligo: A4
Sligo - Westport: N5
Westport - Cong: N59
Route D
Dublin - Galway: N6
Galway - Cong: N59
Car Ferry
to either Cork, Dun Laoghaire in Dublin, or Rosslare in Wexford
Flying
to Galway Airport via Dublin with Aer Lingus
to Knock Airport from most European Cities with Ryan Air: The Low Fares Airline
to Shannon from most European cities, USA and the rest of the world
Car Hire
is available at ALL Irish Airports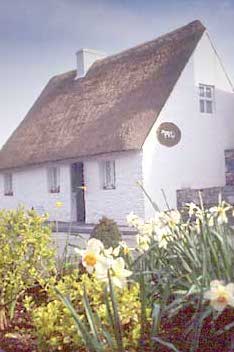 Find out more about Quiet Man Cottage Museum
Quiet Man Cottage Museum
Circular Road
Cong
County Mayo, Ireland
+353 (0)94 954 6089
quietman@congholidaygroup.com
www.quietmanmuseum.com
Sneak Peek
Some interesting items can be viewed here
You may also be interested in...