Yellow life jacket which, when inflated, can prevent the wearer from drowning.
To prevent drowning in the event of a ship's sinking.
This life jacket was worn by Sister Lily McNicholas, a nurse on the MV Amsterdam, a hospital ship which was torpedoed by enemy submarine off the coast of Normandy 4/3/48.
Sister McNicholas and her nursing colleagues ensured that all wounded were safely transferred to safety before scrambling to safety themselves. Most of the wounded were stretcher cases who had to be assisted on to water ambulances. Sister McNicholas couldn't swim and experienced some difficulty before being picked up by a US cutter. She received the OBE for her bravery.
Lily McNicholas's family donated the lifebelt to the museum in 1989.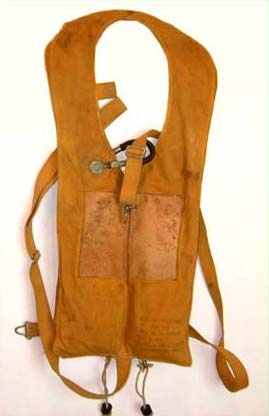 Find out more about Kiltimagh Railway Museum
Kiltimagh Railway Museum
Kiltimagh
County Mayo
+ 353 (0)86 101 1388
solanb@gofree.indigo.ie
Sneak Peek
Some interesting items can be viewed here
You may also be interested in...