A curious forked spade formerly common in Mayo. This spade has its foot cut out of a single piece of wood to which a separate handle is attached.
The spade was very suitable for making ridges in loose sandy or boggy soils.
There are only two known original Mayo spades in existence. They are mentioned in the Royal Irish Antiquities in 1857 and Wakeman mentions them in 1894. Patrick Knight says people of Erris used them to drain the bog. These two spades in the Museum are copies.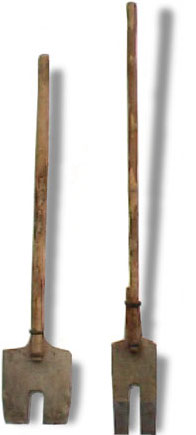 Find out more about Enniscoe Museum
Enniscoe Museum
Mayo North Heritage Centre
Castlehill
Ballina
+353 (0) 96 31809
northmayo@gmail.com
www.northmayogenealogy.com
Sneak Peek
Some interesting items can be viewed here
You may also be interested in...