North Mayo Family Heritage Centre
The North Mayo Family Heritage Centre is situated near the town of Crossmolina, on the grounds of Enniscoe Estate which also houses a heritage museum and forge.
For those wanting to trace their family roots in North Mayo this is the place to come. We have all parish and civil records along with census records and land records (Griffiths' Valuation) from the 1850's. The finished item is nicely presented in a hard-backed book.
Services
The Mayo North Family History Research Centre, offers a full service for the Northern half of County Mayo. Its sponsoring body has been to the fore in establishing the Irish Family History Foundation. The centre deals with a huge volume of enquiries resulting from the mass exodus of people to all corners of the world, especially the USA.
Common Surnames in North Mayo
Gallagher, Durkan, McHale, Barrett, McNulty, McNicholas, Brennan, Henry, Doyle, Harkin, Dogherty, Foy, Kelly, Loftus, Gaughan and Lavelle.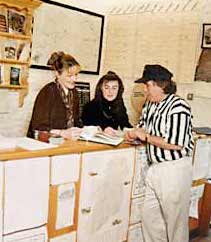 Find out more about Enniscoe Museum
Enniscoe Museum
Mayo North Heritage Centre
Castlehill
Ballina
+353 (0) 96 31809
northmayo@gmail.com
www.northmayogenealogy.com
Sneak Peek
Some interesting items can be viewed here
You may also be interested in...