Clogher Bog Loop - Walking Route
Clogher Bog Loop - Walking Route At a Glance
Start & Finish: Clogher Heritage Centre

Distance: 8km

Time: 2hrs - 3hrs

Ascent: 50m

Terrain: Country lanes and bog tracks

Grade: Easy
Saint Patrick, patron saint of Ireland, made County Mayo his home for many years around 400AD. Spending 40 days and nights on the imposing Croagh Patrick, he banished snakes, dragons and demonic forces from his vantage point. The surrounding county is littered with heritage sites, stemming from the time he stayed here. And the quaint village of Clogher is no exception.
The Clogher Bog Loop Walk is located mid-south of the county, and is one of five marked walking trails around the pretty village of Clogher. Following a network of minor lanes, tracks and paths past sites of both natural and historic importance.
Route Summary
Once you arrive at the Clogher Bog Heritage Centre, don't go anywhere just yet. Check out the 17th century replica cottage, which showcases local life as it used to be - you can even see a horse being shod with traditional tools in the forge next door.
When you leave the Heritage Centre, the route turns right onto a series of turbury (turf cutting) tracks through the bog. You'll stumble across stacks of peat laid out to dry, which the locals have harvested using traditional hand-cutting techniques. This turf will be dried out for use as fuel during the cold winter months.
As you move along the route, take the opportunity to examine the rare flora in more detail. The habitat is extremely acidic and poor in nutrients, so few plants survive this hostile environment. But on closer inspection, you should be able to spot specialist species, such as sphagnum moss, bog asphodel, cotton grass and the carnivorous sundew.
Low-lying, as you walk you'll be treated to glorious panoramic views of the Party Mountains to the south and the unmistakable cone of Croagh Patrick to the west. Every year, up to 25,000 pilgrims climb this 765m summit on Reek Sunday (the last Sunday in July).
When you reach the old Drom Cemetery, near the ruins of a church first built by Saint Patrick in 440AD, keep watch for an imprint of a foot believed to belong to the saint in a stone at the rear of the graveyard.
Complete the loop by following the marker posts back to the Heritage Centre.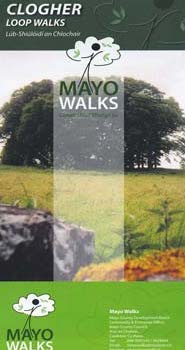 Find out more about Clogher Heritage Centre
You may also be interested in...