History of Croagh Patrick
What is Croagh Patrick?
The mountain itself is renowned for its Patrician Pilgrimage in honour of St Patrick's fast on the mountain for 40 days in 441AD and the custom has been faithfully handed down from generation to generation.
On Reek Sunday, the last Sunday in July, over 25,000 pilgrims visit the Reek. Individuals and groups come from all over the world and include pilgrims, hill climbers, historians, archaeologists and nature lovers.
The tradition of pilgrimage to this holy mountain stretches back over 5000 years from the Stone Age to the present day without interruption.
The Famine Monument
The Centre is located near the National Famine Monument in Murrisk.
This magnificent piece of sculpture by John Behan was unveiled by President Mary Robinson in 1997.
It depicts a Coffin Ship with skeleton bodies and commemorates the anniversary of the Famine.
There is an extensive famine landscape around Croagh Patrick.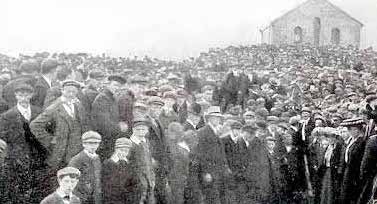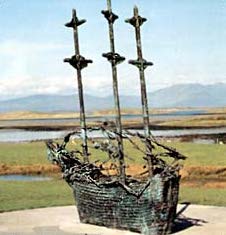 Find out more about Croagh Patrick Information Centre
Croagh Patrick Information Centre
Murrisk
Westport
County Mayo
+353 98 64114
info@croagh-patrick.com
www.croagh-patrick.com
Sneak Peek
Some interesting items can be viewed here
You may also be interested in...