Croagh Patrick Information Centre, Teach na Miasa
Location
The Croagh Patrick Information Centre is situated in Murrisk on the Pilgrim's Path at the base of Croagh Patrick and opposite the National Famine Monument.
Croagh Patrick is 5 miles from the picturesque town of Westport and its conical shape soars majestically above the surrounding countryside.
Magnificent views of Clew Bay and the surrounding south Mayo countryside are spectacular from all stages of the ascent of the mountain.
The Archaeology
An archaeological excavation licensed by the National Monuments service commenced on August 2 1994.
It discovered evidence of Christian activity but also showed that Croagh Patrick was a place of tremendous importance in the pre-Christian era, as indicated by the discovery of a Celtic hill fort encircling the summit of the mountain.
The exciting discovery of a dry stone oratory push back further in time our knowledge of pilgrimage architecture on the summit. It is akin to the Gallarus Oratory in County Kerry and has been radiocarbon dated to between 430 and 890 AD.
The Centre
The director of Archaeological Excavations on the summit of Croagh Patrick, Gerry Walsh, and his wife Gabrielle opened the Croagh Patrick Information Centre at the foot of the mountain in March 2000.
The Centre stems from the interest shown by the thousands of pilgrims and climbers in the archaeological discoveries on the summit.
Gerry realised that people would like more information in an accessible and user-friendly way and he set about making his dream a reality.
He also realised that people visiting the mountain were not being supplied with general information on the South Mayo region, an area of unspoilt natural beauty, so he decided to incorporate this into the Centre.
The building housing the Centre maintains the natural appeal of the area with a profile which blends in with the existing environment.
Céad Míle Fáilte
The Croagh Patrick Information Centre heralds a new era in the ancient tradition of the holy mountain of Mayo.
Céad Míle Fáilte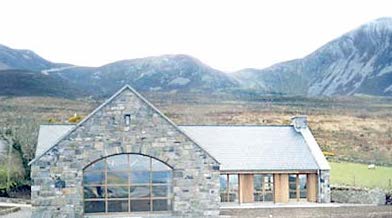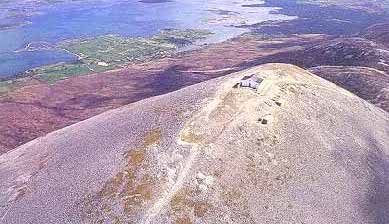 Find out more about Croagh Patrick Information Centre
Croagh Patrick Information Centre
Murrisk
Westport
County Mayo
+353 98 64114
info@croagh-patrick.com
www.croagh-patrick.com
Sneak Peek
Some interesting items can be viewed here
You may also be interested in...